Perhaps the most famous of the Loire Valley chateaux, after Chenonceau, Chambord is a vast Renaissance extravagance started by Francois I in the early 16th century as a hunting lodge (seriously) it contains over 400 rooms, 365 fireplaces and 84 staircases. All this for a residence only used for about 2 months during Francois's reign!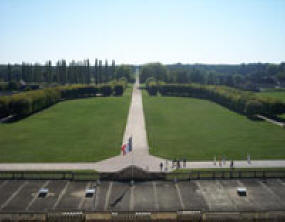 He created sumptuous hunting grounds, surrounded by an uninterrupted wall of 32km to contain his potential prey of deer and wild boar plus a stable for 1200 horses which were used for riding and hunting within the grounds. You can cycle or walk the grounds via the marked out paths but even the shorter walks can take over an hour, such is the size of the park.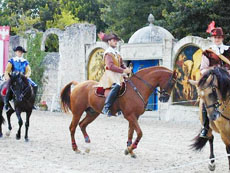 Wear sensible footwear for this visit and take plenty of water. You can also ride horses or take a horse-drawn cart from the stables where, during the summer months, there is an equestrian show.


Inside the chateau the only furnished rooms are the chambers of Francois I and Louis XIV plus a room dedicated to the toys of the Royals as the chateau had apparently been ransacked of its furnishings during the Revolution.
That said you cannot fail to be impressed by the decoration, fittings and internal architectural features of even its spacious empty rooms.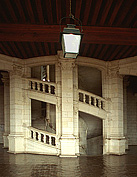 Its famous double spiral staircase is said to have been influenced by Lenardo da Vinci who was a guest of Francois I at Close-Luce near the royal residence at Amboise. It is interesting to send your partner down one set and for you to take the other - and pass each other without touching!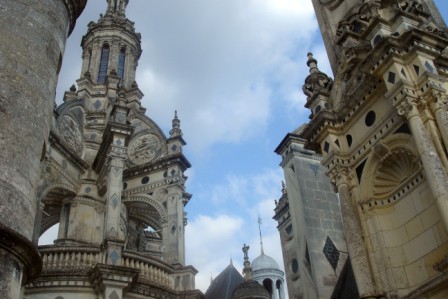 The views of the external architecture from the roof terraces are breathtaking---why so much detail Francois?—I suppose because he could!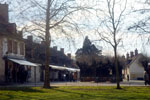 As with all popular les chateau of the Loire it is better to visit before the large tourist parties arrive or after they have gone.
Each evening in July and August, of 10 p.m. to midnight, the chateau façade is lit up in a way that blends the building to the forest through a sound and light show.
There are toilets and gift shops inside and outside the chateau. Outside you will also find a restaurant, a newsagent and a cash dispenser.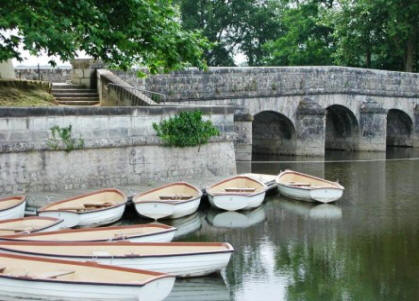 You can also hire bikes and boats within the grounds.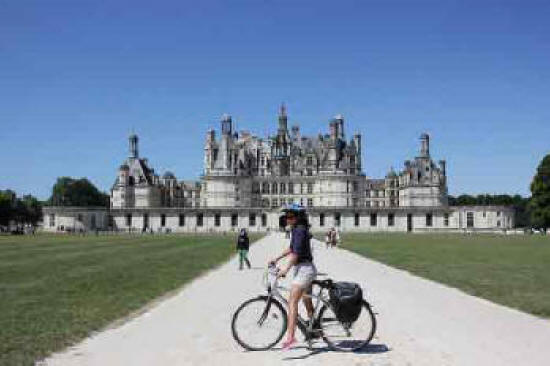 Tip: Rent bikes at Chambord
| | |
| --- | --- |
| 2016 | Rate |
| Full price | 11.00 € |
| Reduced rate | 9.00 € |
Paying car parks
| | |
| --- | --- |
| Car/Motorbike: | €4/day |
| Camper van/vehicle < 7m 90: | €7/day (€10 overnight) |
| Coach/vehicle > 7m90: | €45/day |
Official website: http://www.chambord.org/
Chateau de Chambord on Wikipedia
Directions and time to Chambord