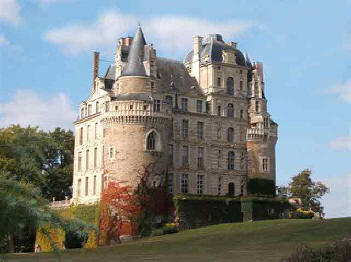 The Château Brissac, in the département of Maine-et-Loire, France, was originally built, like most of the Loire Valley chateau, as a fortified castle by the Counts of Anjou in the 11th century. After the victory over the English by King Philippe II of France, he gave the property to Guillaume des Roches.

In the 15th century, it was rebuilt by Pierre de Brézé, a wealthy chief minister to King Charles VII. During the reign (1515–1547) of King Francois I, the property was acquired by René de Cossé, who the king named as governor of Anjou and Maine.
| | |
| --- | --- |
| | During the French Wars of Religion, Chateau Brissac was severely damaged and the fortress was scheduled to be demolished. However, Charles II de Cossé sided with Henri of Navarre who was soon to be crowned King of France. In gratitude, King Henri gave him the property, the title Duc de Brissac and the money to rebuild the chateau in 1611. |
| | |
| --- | --- |
| Its construction made it the highest chateau in France, its façade reflecting the influences of that century's Baroque architecture. Through marriage, the Cossé-Brissac family also acquired the Chateau Montreuil-Bellay but later sold it. | |
The descendants of the Duc de Brissac maintained the chateau until 1792 when the property was ransacked during the Revolution. It lay in waste until a restoration program began in 1844 that was carried on during the 19th century by the Duke's descendants.

Today, the Chateau Brissac is still owned by a de Cossé family member. The chateau is open to tours and its luxurious gilded theatre hosts the annual Val de Loire festival.