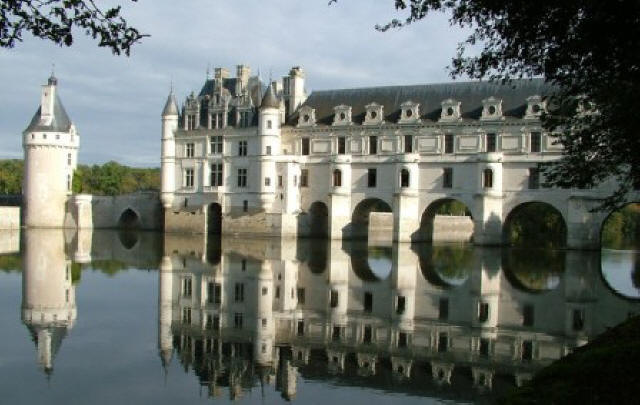 Chateau de Chenonceau is the most visited and photographed chateau of the Loire Valley in France. It is often described as 'the ladies chateau' as throughout its history it is they who have most influenced its design and its destiny...it was not always the chateau we see today.
Thomas Bohier, in 1512, acquired what was a small fortress by the river Cher and decided to replace it with a 'Renaissance' style chateau leaving only the keep from the original building.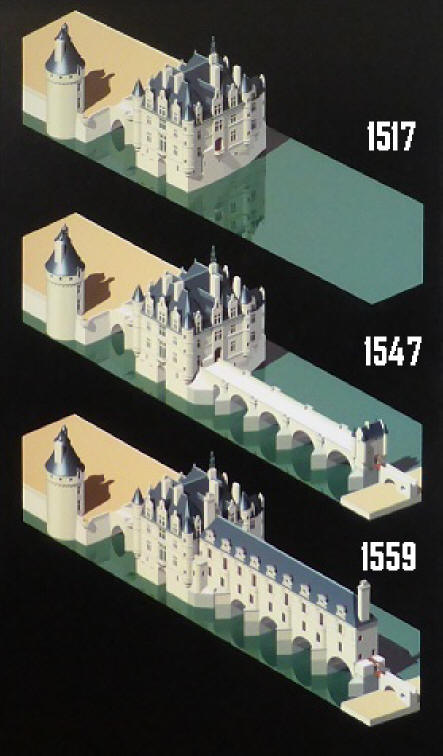 It was his wife Katherine Briconnet who oversaw its build as her husband spent a lot of time away at war and she has left a great legacy. The chateau was later held over to the monarchy to pay-off debts and used by them to stage hunts and festivals.
Henri II gave it to his mistress Diane de Poitiers it was she who added the bridge over the Cher as well as the gardens.
When Henri died, the Queen, Catherine de Medici, forced Diane out of Chenonceau (to Chateau de Chaumont), even though by then she was its legitimate owner. Catherine proceeded to build the gallery and grand ballroom on Diane's bridge which finally gave Chenonceau its now iconic look.
Diane would in fact refuse to live at Chaumont and the "Eternally Beautiful" lady of Chenonceau would finish her days in the nearby castle of Anet.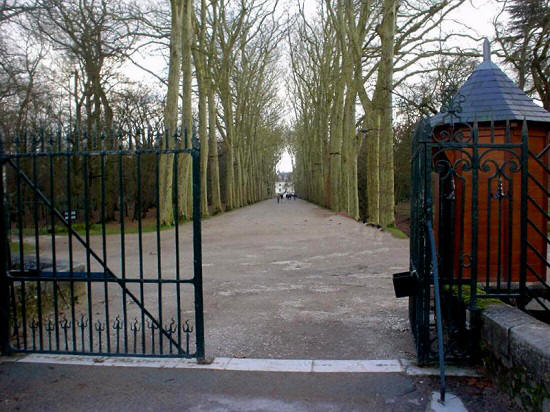 As one of the most popular chateaux of the Loire Valley the chateau has plenty of parking places in large car parks as you enter the grounds but they can be busy so you may have to be patient. From there you enter the gate house to pay/collect your tickets and then you have a bit of a walk along a long the well worn route of the tree-lined avenue before catching your first glimpse of the chateau.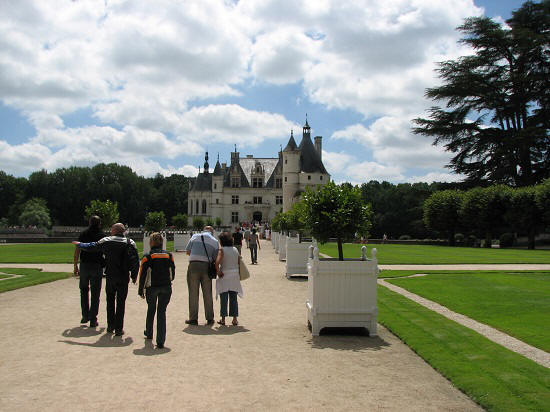 Depending on the time of year you are greeted with a variety of colourful displays(130K bedding plants are used in summer) that make you stop and stare before taking in the sight you'll have probably seen in pictures many times before but they are nothing compared to the real thing!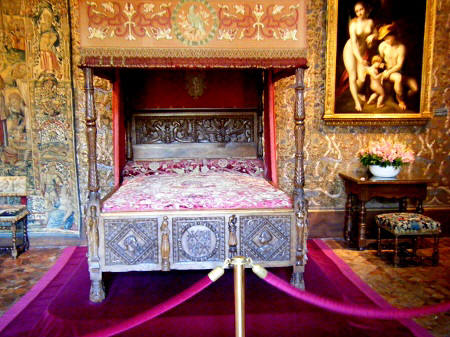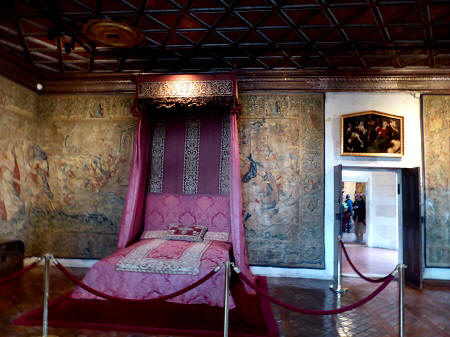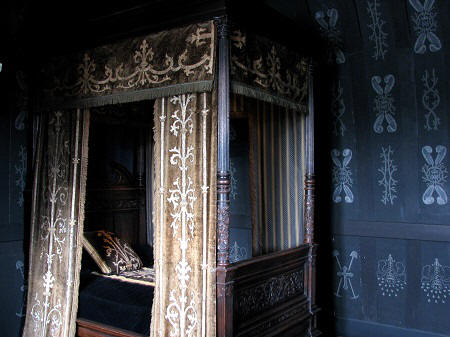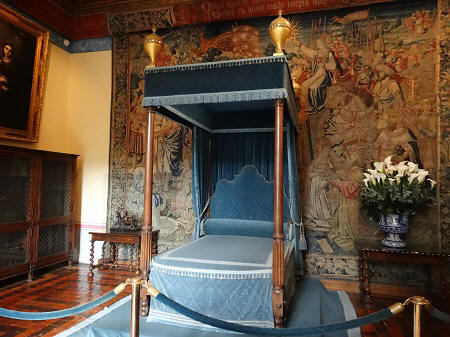 Chenonceau castle is well furnished with Renaissance furniture, a good collection of 16th and 17th century tapestries and a great number of masterpieces. The bedrooms of the ladies of the chateau, who played major roles in the history of Chenonceau are the most exquisite. Paintings by Le Primatice, Rubens, Le Tintoret, Rigaud, Nattier are among the most famous names that can be found here,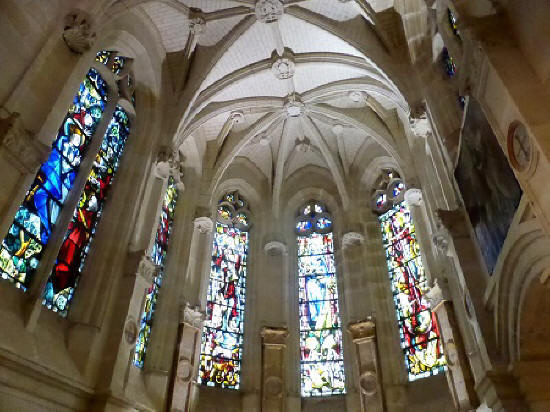 The small chapel, our favourite place in Chenonceau, is a delight, the original windows here were destroyed by a bombing in 1944 the replacement stained glass windows were made by a master glassworker in1954. There is a gallery where the 'royals' would attend mass. Allegedly it was saved during the Revolution by the then owner, Madame Dupin, converting it into a wood store!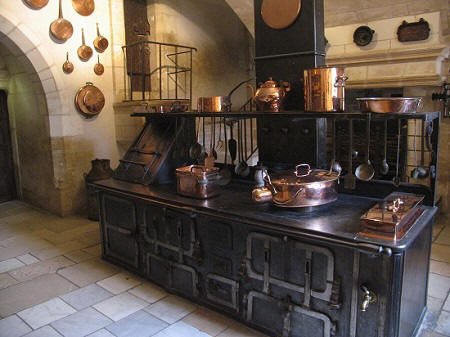 The popular kitchens of chateau de Chenonceau with their collection copperware are located within its vaulted cellars on the first and second piers of the 'bridge'. There is a small landing platform beneath, this was where supplies would be transferred from riverboats to the servants for stocking.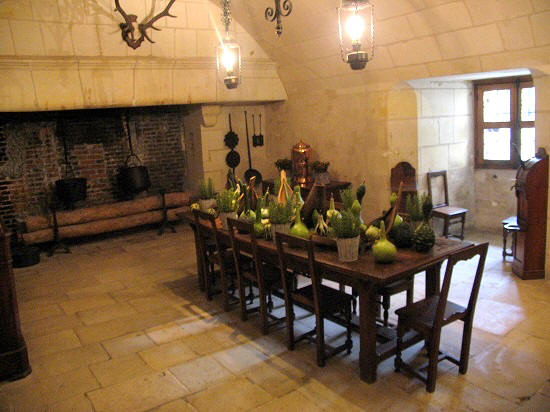 The 16th century chimney in the pantry is the oldest in the chateau. The kitchens today look so pristine...it would be interesting to go back to a time when the staff were busying about trying to cater for their demanding royal hosts above and see what the real conditions were like!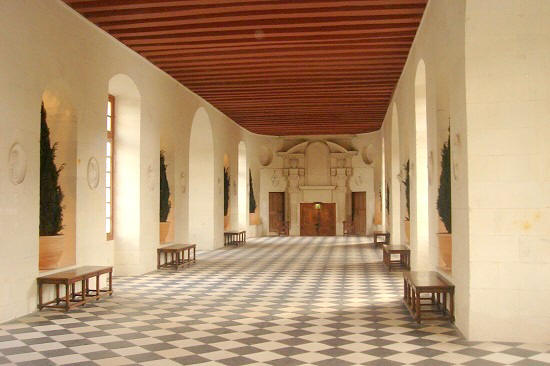 The 60 metre long gallery is quite stunning with its chalk and slate tiled floor and it must have been a delightful ballroom. At the far end there is a door to give you access to the opposite bank of the Cher which is opened during high season.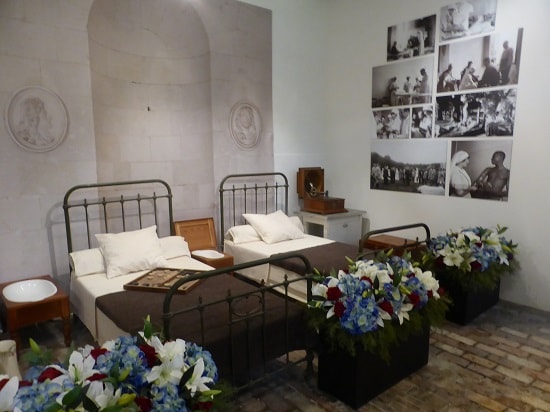 During the First World War, Chenonceau castle was used as a hospital. It is believed Madam Menier ( the wife of the then owner) even nursed some of the soldiers herself and in the second World War it was used as a route by the Résistance to enter Vichy (free) France from the German occupied part of the country as the River Cher was the demarcation line between the two.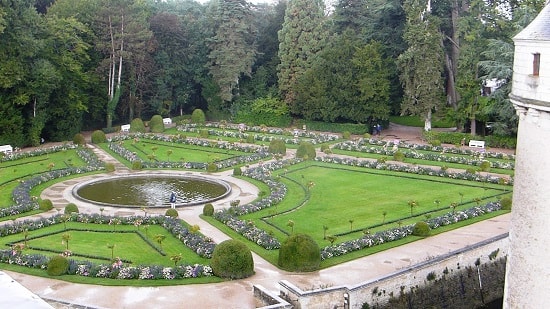 The gardens at Chenonceau offer great photo opportunities from its balconies. The Catherine de Medicis garden with its central pond vies for attention with Diane de Poitiers garden with its fountain much as the did in real life!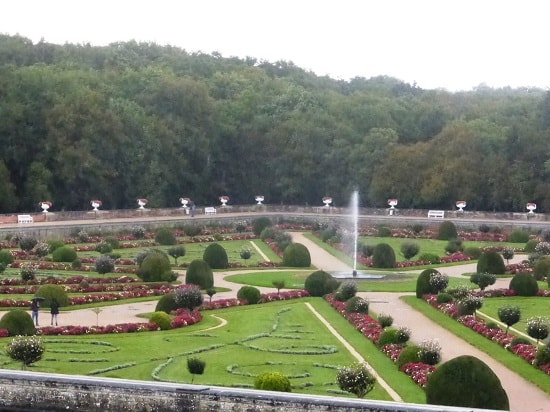 You can walk through the gardens illuminated at night on Fridays, Saturdays and Sundays in June and every evening during July and August starting at 21 h 30
There is a good restaurant/café, 'The Orangerie' built in what used to be the stables where you can have a meal or just a coffee to revive you. There is also a snack bar/creperie located near the ticket office.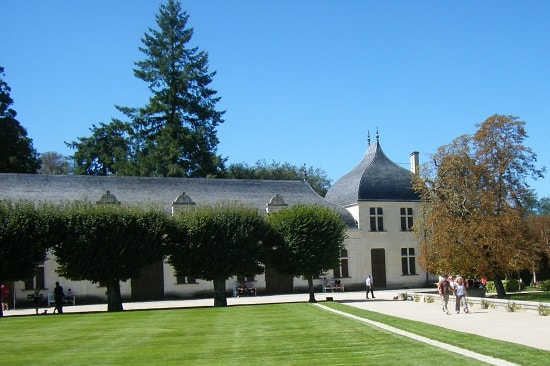 The popularity of Château de Chenonceau means that it can at times be very busy I would not recommend mid-afternoon in high season if you want to avoid the crowds and remember to have your driving licence and passport with you if you want to hire their audio equipment. In France you are required to have these items with you at all times during your visit.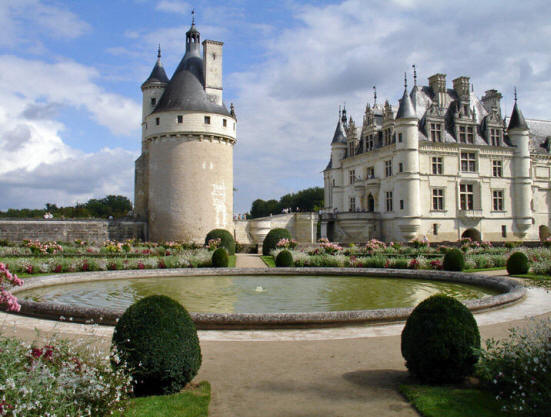 After your visit to the chateau and gardens take a walk to the left of the restaurant and look at their 'old village' setting - charming - and then on to their nursery gardens...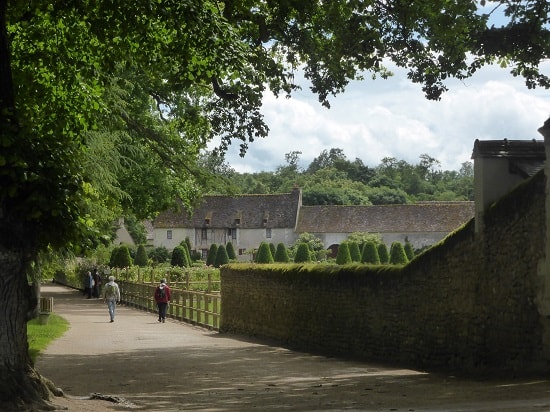 where you will find seasonal blooms ready to be used in the chateau's award winning floral displays.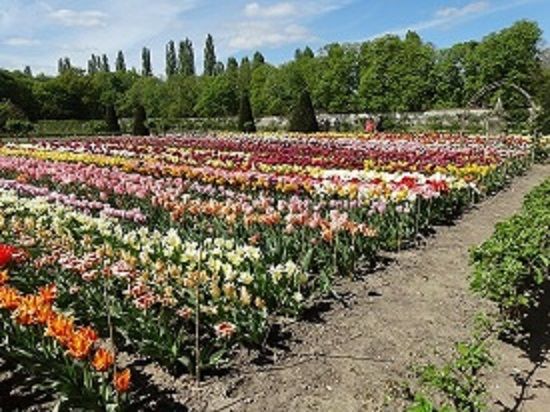 Open every day
From January 1to February 3: 9.30 am to 5.00 pm
from February 4 to March 31: 9.30 am to 5.30 pm
from April 1 to May 28: 9 am to 7 pm
from
May 29
to June 30: 9 am to 7.30 pm
from July 1 to August 31: 9 am to 8.00 pm
from September 1 to
September 30
: 9 am to 7.30 pm
from October 1 to
November 1
: 9 am to 6.30 pm
from
November 6
to November 12: 9 am to 6.00 pm
from November 12 to December 31: 9.30 am to 5 pm

Prices
| | | | |
| --- | --- | --- | --- |
| 2018 | Adults | Children | Students |
| Castle (with brochure) | 14.00 € | 11.00 € | 11.00 € |
| Castle (audio video guided tour) | 18.00 € | 14.50 € | 14.50 € |
https://www.chenonceau.com/ Website of Chateau de Chenonceau.
Blogroll:
experienceloire.blogspot Chenonceau at Christmas