Chateau de Langeais in the Loire Valley
Another of the 'non-A-list' chateau of the Loire Valley that we feel is well worth a visit, especially with kids. Plus you get the added bonus of a pretty little town.
| | |
| --- | --- |
| When you enter the town of Langeais you are immediately taken by its chateau's preposterous position slap bang in the middle of the town centre. It's a powerful building (well actually two) with its drawbridge and its towers with their machicolations (sticky-out bits for dropping things on your invaders!). | |
| | |
| --- | --- |
| | Kids will love the working drawbridge, well the ones with imaginations, as it evokes images of knights and castles. The walk along the ramparts will also delight them. Plus they have a good garden and playground to run around in. |
| | |
| --- | --- |
| While the outside of the building is strong and fortress-like, the internal facade is more influenced by the Renaissance giving it more of an appearance of the traditional chateau. Within the gardens you are also met by the second building of the site... | |
| | |
| --- | --- |
| | ...a keep dating back to 1000AD, built by Faulk (Foulques) Nerra, a former count of Anjou – which is unusual as although most of the chateaux of the region were built on former fortress sites, few have any remains of the original buildings – here is an exception which shows how building had progressed through the centuries. I know which one I'd chose to live in! Although they are only 200 mtrs apart they are separated by 5 centuries - what's that distance over time formula again?. |
A great deal is made of the fact that the fortress was built in double quick time – between 1465 and 1469 – (hire these builders!) which, when you are face to face with it, is a remarkable achievement.
In 1491 it was chosen as the venue for the marriage of Charles VIII and the 14 year old Duchess Anne de Bretagne, which brought Brittany into the Kingdom of France and helps give the chateau its place on the tourist map of the region. This is reproduced with a display of wax figures and an informative film.

The display has been described both as 'creepy / hilarious wax figures' and 'lavishly costumed and strikingly realistic characters'...you'll have to judge for yourself!
The majority of restoration work to the chateau was undertaken by Jacques Siegfried who has added many fine examples of 15th century furniture and tapestries to help return the interior to something like its earlier splendour.He bequeathed it to the Institute of France in 1904 and they remain its current guardian.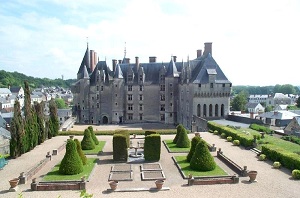 | | |
| --- | --- |
| There are formal gardens between the chateau and the keep but if you continue past these further up the slope it is well worth the hike, especially with kids, as its here you will find the play area as well as a great tree house curling itself around a large cedar tree. This part of the gardens makes a great place for a picnic. | |