Loire Valley churches - Notre-Dame de Rivière
One of our favourite churches here in the Loire Valley is the delightful, 'L'église Notre-Dame de Rivière' in the village of the same name 10 minutes south east of town of Chinon.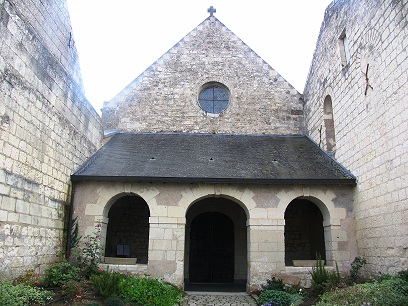 The entrance to the church is now hidden away within a group of residential buildings - early planning laws obviously did not consider this religious gem worthy of being exposed in all its glory - or were these perhaps part of a larger monastical complex? In any case its humble entrance only adds to the effect it has on you as you pass under its arch.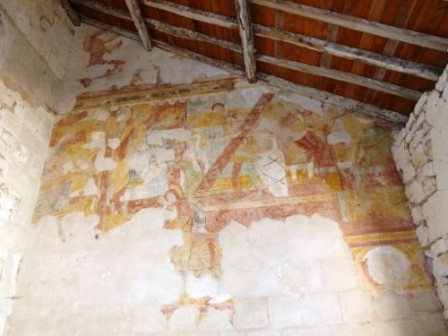 Inside the porch itself there is a restored12th century wall painting featuring the 'resurrection of Lazarus' that might easily be missed.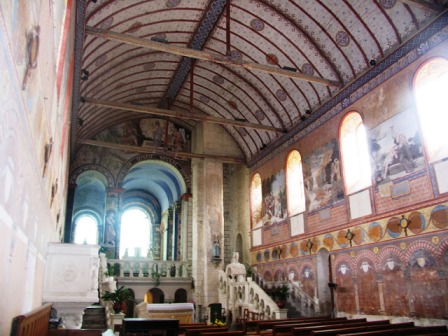 Once inside the actual church you cannot fail to be impressed by its somewhat flamboyant decoration.The information board at the entrance to the church tells us that the painting was done by 'Count Galembert in 1864' - a count would surely have it done for him - anyway it is how,in the 19th century they imagined a medieval church might have looked.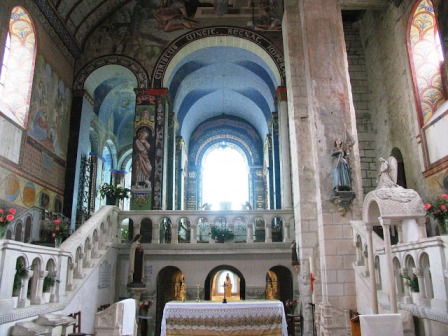 The church has a rather unusual raised choir, reached by two sets of stairs...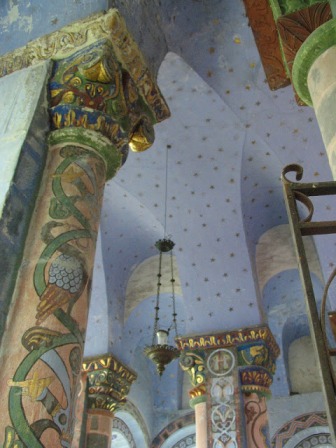 ...once up there your eyes are drawn to the elaborate paintwork of the ceilings, columns and capitals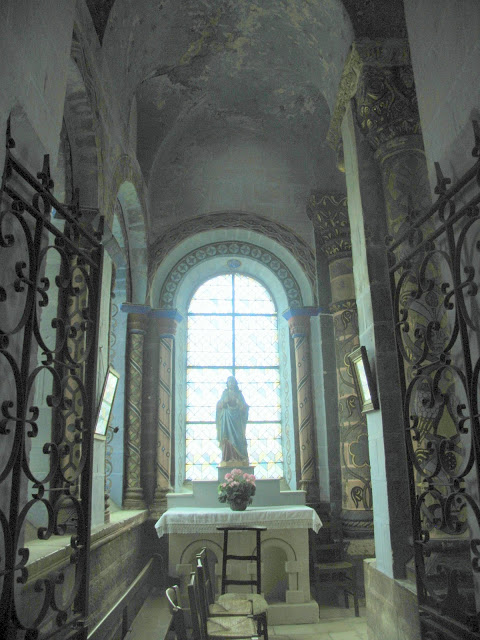 There are two side chapels within the choir, one of which is dedicated to the Virgin Mary...
who has apparently been worshipped from this site from as early as the 3rd century.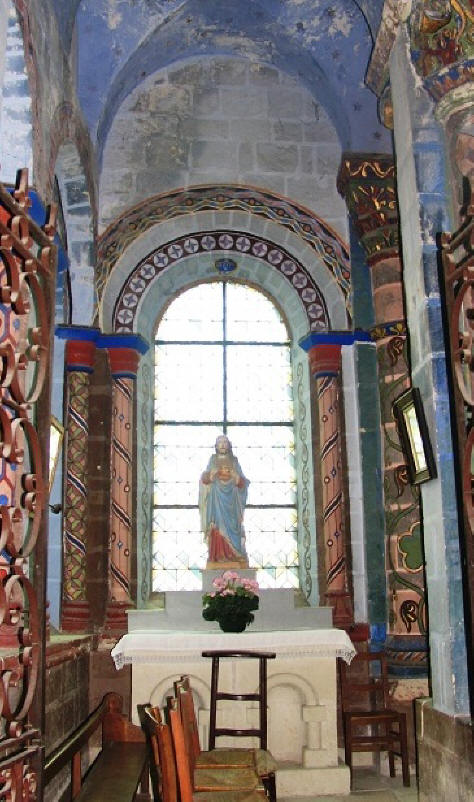 ...and another dedicated to Christ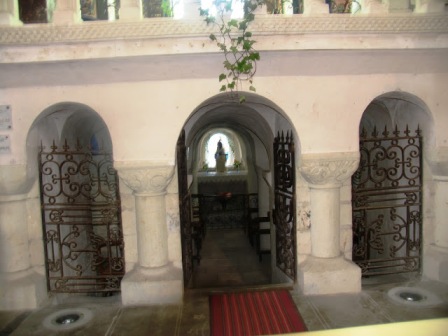 The choir sits over a crypt which is divided into three bays, it contains in a side chapel, the tomb of the 'Seigneur de Basché' family (church benefactors) from the 16th century plus a charming little central chapel.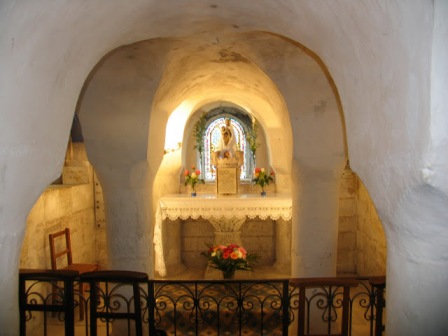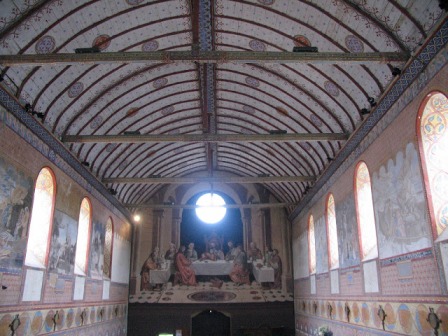 Looking back down the nave with its ornately decorated vaulted ceiling you are presented with a large painting of the 'last supper' which covers the whole of the wall above the entrance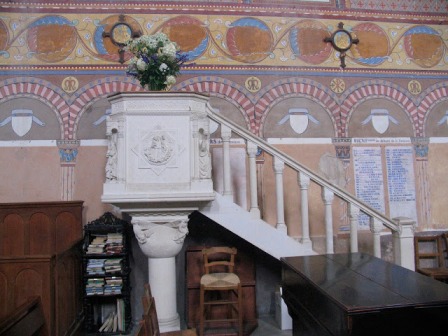 The church also has other interesting features such as its pulpit and baptismal font...among other things.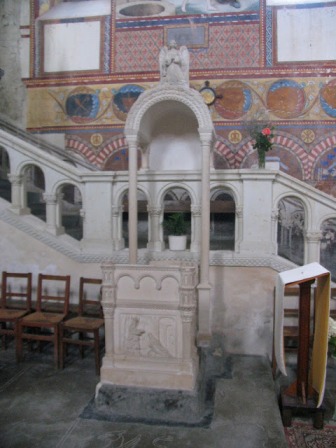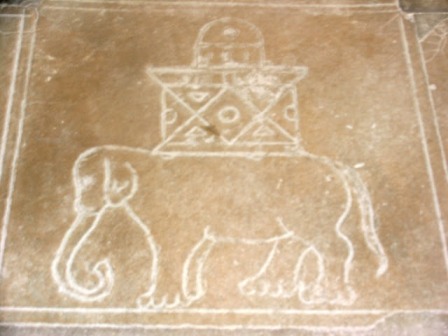 The artwork is not exclusive to the walls and ceilings with the floor also being covered in carvings and stud work...much of which is covered by the church pews...perhaps the congregation only had the option of standing in the past.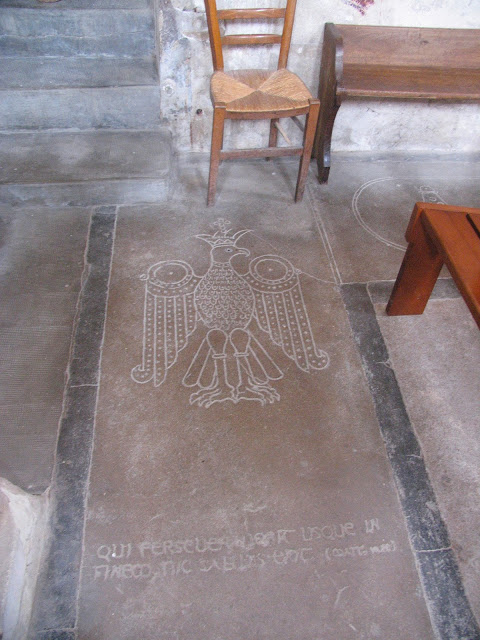 Where's Joan?...you probably noticed her earlier on one of the support columns for the tower.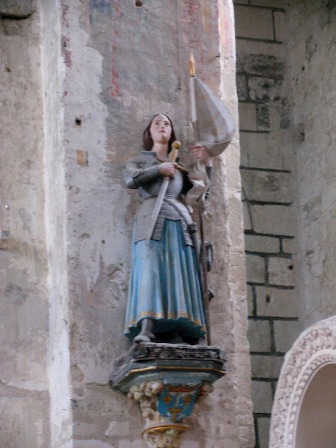 To get any kind of views of the exterior of the church you have to somewhat invade the privacy of the neighbouring gardens which now envelop it.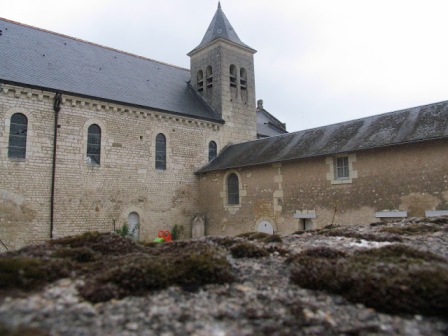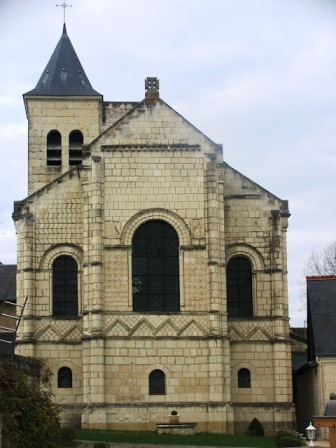 The rear of the church now sits in the garden of a rather smart looking gite complex.
You will see a sign on you right to the church off the D749 along Rue Des Lavandieres