Saint Valentin
Loire Valley
Centre Val de Loire - Saint Valentin
The little village of Saint Valentin (pop.280) in the department of Indre within the Centre Val de Loire Region, has, since the 1980's, taken advantage of its name to promote itself as 'The Village of Love'. Some forward thinking by the then mayor Pierre Rousseau led to the creation of the Lovers' Garden' (Jardin des Amoureux), plus an annual festival around St. Valentine's Day.

Residents deck their homes in blooms, the lovers' garden open its gates and the village is turned over to red hearts and romance.

A village dedicated to love Photo © Mairie de Saint-Valentin
Lovers may marry in the garden gazebo, attach their amorous wishes to the Tree of Vows, plant a tree in honour of their marriage or anniversary, or commemorate their love on the Tree of Eternal Hearts.
.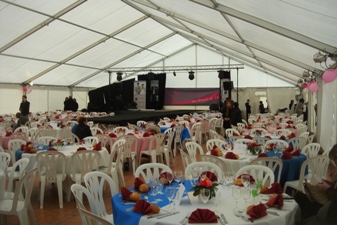 Couples from all over France and even further afield join with the locals in the celebrations. There is a programme of dining, dancing, an evening of cabaret plus a bridal gown show and a fireworks display to round things off.
| | |
| --- | --- |
| In 2010 we visited the village on the 14th February, purely for research purposes of course and despite a very cold day were very comfortable within the temporary 'salle des fetes'. The company, food and entertainment were good and we even had the inevitable surprise proposal and acceptance from a young couple in the audience! | |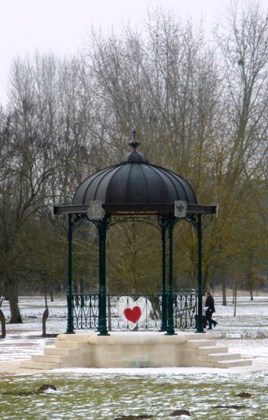 As we left the village and the celebrations we did think that it was a shame that a day in July had not been picked to celebrate this honourable man - but then the village opens its doors to tourists all the year round to allow them to buy uniquely stamped valentines and postcards from the village's post office plus other souvenirs or simply stroll in the lovers' garden.

For more information on the town of Saint-Valentin, or to make reservations, contact the tourist office at:

Phone - (33) 02 54 21 41 77
nfo@village-saint-valentin.com
Website - www.village-saint-valentin.com




View in Larger Map and get directions
"Author: Jim Craig"
Rentals
Choose a village house to rent in the Loire Valley direct from the owners.