Chateau
Sully-sur-Loire
Check out

for hotels around Sully sur Loire
Loire Valley
Loire Valley Chateaux - Sully-sur-Loire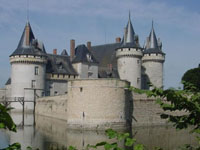 | | |
| --- | --- |
| With its high towers and its deep ditches, Sully sur Loire is a great example of a medieval fortress. It was built at the end of 14th century on a location that offered a rare crossing of the Loire river. Maximilien de Béthune (1560-1641) was the first Duke of Sully, he bought the chatreau in 1602, he strengthened the embankments of the Loire to protect the town from occasional flooding, created the gardens and it was he who was mainly responsible for its restoration. The style is very similar externally to the chateau at Chaumont. | |
| | |
| --- | --- |
| | It remained in his family before finally passing to the state in 1962.They have since worked continuously at its restoration. It is very impressive externally whether you are visiting by day or when it is flood-lit in the evening. |
| | |
| --- | --- |
| The Duke of Sully was the First Minister of Henri1V and together they gave France 20 years of much-needed peace. Following the Wars of Religion, the Edict of Nantes guaranteed religious tolerance. | |
| | |
| --- | --- |
| | He was passionate about tree-planting and he is credited by many as having started the tradition of planting poplars alongside roads - an image which, for many, typifies France. |
Inside the chateau you will find the usual array of tapestries, paintings, sculptures and French period furniture though these are sparse. The Louis XV wing has however, rooms decorated in a 17th century style to view. .

Six centuries after its construction the roof of the Great Hall is still an impressive structure.
| | |
| --- | --- |
| | The chateau plays hosts to a classical music festival every year as part of the Music Festival De Sully & Du Loiret This year they celebrate their 42nd anniversary. |
External links:
https://www.sully-sur-loire.fr
"Author: Jim Craig"
Rentals
Choose a village house to rent in the Loire Valley direct from the owners.