Kids/children in the Loire Valley - things to do, places to visit.
A visit to the Loire Valley is not just for adults as the area's delights, whether it be the spectacular chateaux, the charm of its towns and villages or its diverse countryside, it caters for kids of all ages using its history and geography to captivate them in an arresting and often surprising way. Within the region there are 51 sites participating in a programme 'On the trail of the Infant King' which is aimed at 7-12 year olds - look for the logo.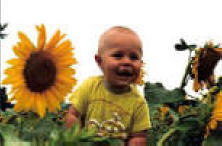 Click on links below for things to do with kids in each area::
Remember though, don't overdo the chateaux as kids will just begin to see them as 'just another old building' - which would be a great shame!
External links:
http://thetrunkifiles.com/ A family's experience in the Loire
Places to stay in the Loire Valley